Forget killer clowns, this Haloween will be plagued by the scariest character in recent years. With the spooky holiday just eight days before the US presidential election, a Donald Trump theme is likely to give your guests goosebumps if not outright terror. Check out these ways to accessorise your Halloween in a disturbing way.
1) Trumpkin
Carve your pumpkin in the same way he is carving out the ambitions of an American generation. The lurid orange colour even matches.

2) Donald is a clown
Or why not combine this year's two horrifying crazes?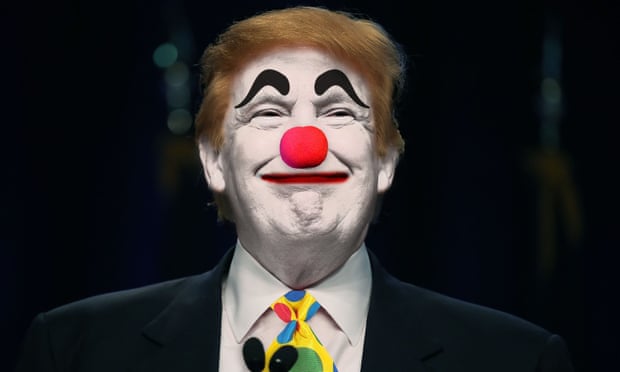 3) Screaming Donald Masks
This quality facepiece was spotted in Japan.
4) Style your pets for the occasion
5) Hire people for your party (and don't pay them)
Get into the spirit of the Donald Trump philosophy by avoiding paying the union pensions and welfare contributions of the people you hire to help run your Halloween party.
6) Make it sexy
Everyone knows Halloween is the perfect opportunity for women to show off their figure as a sexy witch. Perfect for a party themed around a man who has been accused of marital rape, threatened his daughter with incest and has been caught up tape bragging about sexual assault.
7) Mash up with your favourite fandom
He who must not be named. The Dark Lord. The world has many names for Donald Trump.
8) Put on your favourite scary movie
9) Stuff yourself with candy

10) Invite 130 million people
Around 40% of Americans support Donald Trump at the time of writing. Just don't invite any of the 1.6 billion Muslims in the world.
.
A Donald Trump Theme Will Make This Halloween The Scariest Yet
Reviewed by
Ciaran McCormick
on
15:13
Rating: