Security tags are normally found on high priced electronics or alcohol but a London Tesco store has been photographed tagging plastic bags. The Surrey Quays branch were caught putting the anti-theft devices on the bags in the wake of the new 5p charge levied by the government. Shopper Peter Young flagged the photo on social media. The tags were attached to the 10p range of stronger bans, though this still seems like a small price to pay. Surprisingly, Tesco responded saying that they were indeed designed to prevent theft, but later admitted that they were probably a mistake.
The 5p bag charge has been a success. In the times when I have been shopping recently, I have seen a far greater number of people fish out used bags and stuff their shopping into rucksacks. Normally, I would just use disposable bags myself, but even my behaviour has changed. However, there have been some examples of rebellion, whether in supermarkets or online through protesting memes. Theft of 5p plastic bags is an extreme I never imagined we would see.


This sort of thing has a long history, though. We live in a society where they have to chain up supermarket trolleys with £1 deposit slots to stop people stealing them. Back in 2012 a Tesco store in Wales, where the 5p charge was introduced years ago, faced even more serious theft. Shoppers took off with over 500 baskets and some were even spotted on eBay selling for around £25.
Just a few days ago, a Tesco security guard had to accost a woman in the car park and accused her of stealing. She had just taken her shopping from the store to her car in a basket. Other shoppers have noticed staff breathing down their necks as they bag their shopping to ensure they take only the bags they have paid for.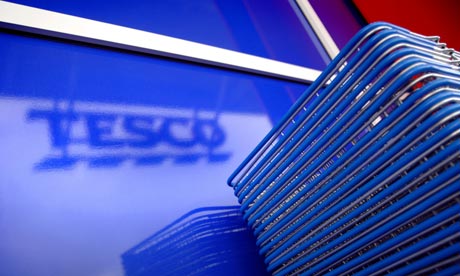 This ridiculous use of security tagging and guards is clearly an anomaly, but it points to deeper points about our shopping habits. People are very resistant to change and so the idea of being deprived of free bags has provoked some minor outrage. This is particularly the case because people often see the cost of bags being built into the cost of their groceries. It shows just how desperate shops are to ease the transition.
I have noticed that the charge always appears as a '5p Government Bag Charge'. Supermarkets are keen to make their shoppers aware that it is not them imposing the fee. Likewise, they have been stressing the importance of the fee for its charity donations, though the focus has not been especially focused on the environmental benefits. In time, these feelings of resentment will fade away and people's behaviour will be changed for the better.
Tesco Security Tags Its Bags After 5p Government Charge
Reviewed by
Ciaran McCormick
on
17:28
Rating: