Another heartwarming and socially progressive story has come out of America in the wake of the Supreme Court's gay marriage ruling. The Girl Scouts there were offered $100,000 by a bigoted donor who specified that the money could not be used to support transgender girls.
Rather than accept the much-needed money quietly, they took a principled stand against the discrimination. They declined and returned the money publically. Through their actions, they have supported their most vulnerable and stigmatised members. This is particularly important in the hostile environment of the USA, where denying trans people bathroom access has become a crusade for conservative politicians.
The chief executive of Girl Scouts of Western Washington Megan Ferland summed up their inspirational message. "Girl Scouts is for every girl. And every girl should have the opportunity to be a Girl Scout if she wants to."
However, they badly needed the money. It amounts to about a third of their annual funding. But they could not return to the bigoted donor and his transphobic demands. Their solution was to set up an Indiegogo page and seek funding off the back of publicity from this news story.
The results proved that love almost always beats hate. They smashed their $100, 000 target, reaching over $270, 000. Twitter has been awash with supportive messages using the hashtag #ForEVERYGirl.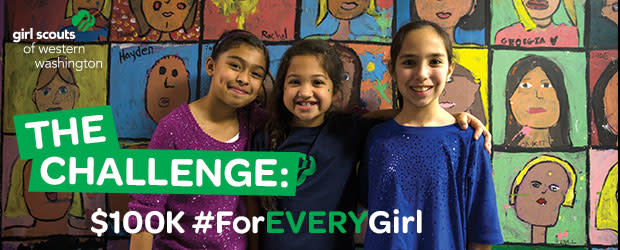 The Girl Scouts have enjoyed a lot of media attention recently. Girls from states like Virginia and Oklahoma held the first ever camp out on the White House lawn. They were greeted by Michelle Obama, who had organised the event as part of her 'Let's Move' initiative to tackle childhood obesity.
Positive messages have boosted the reputation and finances of this important organisation. However, the biggest beneficiaries are the trans girls that are members. They have had their identities affirmed and defended publically and proudly against hatred and can sleep knowing they have a vital support network.
It is a crucial contrast with the Boy Scouts of America, which has become notorious for its homophobia. It begrudgingly allowed gay youth to join but defends a ban against adult gay leaders and volunteers. This denies the young people positive role models and has exposed tensions. They could learn a lot from the empowering policies of the Girl Scouts.
Girl Scouts of America Turn Down $100,000 to Support Transgender Girls
Reviewed by
Ciaran McCormick
on
01:56
Rating: