The bookmaker Paddy Power and gay rights charity Stonewall have teamed up again to challenge the taboo of sexuality in football. Readers of the Metro this morning were greeted with rainbow shoelaces threaded through many of its advertisements.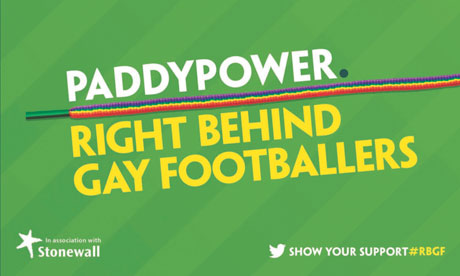 Last year, they sent 5,000 rainbow shoelaces to players in every professional club to wear during matches. The campaign was a hit, with the promoted tweet #RBGF drawing attention. High profile players Joey Barton and Olivier Giroud supported the campaign. It gained widespread coverage and even featured in a segment on Sky Sports' Monday Night Football. Paddy Powe did face criticism for previous transphobic advertising but it seems authentic. This is a fantastic campaign, which will inspire many young people and is part of a broader trend of
greater media exposure
for LGBT issues.
This year, the campaign is back and even bigger, with a promotional film showing Arsenal players sporting rainbow laces with a few memorable laughs along the way.
Many brands have led the way in supporting the campaign too, including Premier Inn (who have re-branded as Premier Out), Smirnoff and Just Eat. 'Premier Out' promise never to discriminate based on protected characteristics, which is comforting given the levels of
casual homophobia
in society, including cases where hotel and B&B owners have illegally discriminated against LGBT people.
Rainbow Laces Campaign is a Triumph for Equality and Marketing
Reviewed by
Ciaran McCormick
on
13:27
Rating: