A controversial art exhibition coming to London's Barbican Centre in September has attracted a storm of criticism. Exhibit B has been developed by white South African Brett Bailey and is based on 19th century human zoos in which African people were displayed for Western audiences. This new exhibition employs black actors to stand motionless for hours on end, some half-naked and others decapitated. It is also updated with a modern twist, with representations of asylum seekers labelled with the phrase 'found objects'.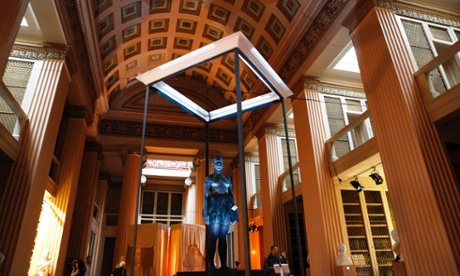 The intention of the artist and enthusiastic actors was to highlight the grotesque history of the phenomenon of human zoos and the system of oppression it represented. However, it has attracted a significant level of criticism across its European and UK tour. A
petition
to withdraw it has been signed by over 21,000 people. They even marched on the Barbican but were challenged by the venue and forced to give their petition to an anonymous security guard rather than a decision-maker.
The petition founder Sara Myers comments on the exhibition:
If Brett Bailey is trying to make a point about slavery this is not the way to do it. The irony gets lost and it's not long before the people behind the cage begin to feel like animals trapped in a zoo. One of the actors in his piece said "How do you know we are not entertaining people the same way the human zoos did?"
This is the crucial objection to the art exhibition. It fails to subvert the oppression faced by these slaves by merely re-creating the zoo. This is the laziest way to try and confront us with this horrific history. It tries to make its predominantly white audience face up to exploitation in the colonial era but instead just objectifies black bodies for shock value. They are given little agency in the piece. At the end, the actors have pictures and biographies but that is detached from their objectification.
Bailey confirms my worst suspicions when he responded to criticism by saying that 'Exhibit B is not a piece about black histories made for white audiences. It is a piece about humanity; about a system of dehumanisation that affects everybody within society'. He accepts the dehumanisation and severe imbalances of power at play. But he flies in the face of the obvious by denying that this is a piece about oppressed black slaves for white audiences on a European tour.
I am not a believer in the censorship of art, but this exhibition deserves to be boycotted instead. It is far better to educate yourself about human zoo horrors than paying black actors to stand in degrading positions for hours on end. Art is meant to provoke but that should only ever be the means and not the end goal. By going to this exhibition, people perpetuate the sexualisation and objectification of static black bodies.
Protesters March Against Racist Human Zoo Coming to London
Reviewed by
Ciaran McCormick
on
15:17
Rating: